11:12 AM
The plot called for the assassination of the United States president, vice president and secretary of state—a massive blow that the conspirators hoped would bring the country to its knees. It didn't work. But it cost us perhaps our greatest statesman, Abraham Lincoln.
And the entire plot was allegedly hatched in Mary Surratt's parlor.
The Conspirator
is based on Surratt's trial—one held before a military tribunal, not a jury of her peers.
"I am innocent," she tells the tribunal.
But is she?
On the surface, it would seem unlikely. She owns the boarding house in which the conspirators met. Her son, John, was ringleader John Wilkes Booth's right-hand man. She's a southerner, sympathetic to the Confederate cause. She simply doesn't pass the smell test.
She
seems
guilty, guilty as sin.
But is she?
Does it matter?
The country is in shock, in mourning. And in its grief, it calls out for justice, for vengeance, for blood. America has decided that she
is
guilty. It
needs
her to be guilty. Best make it official and move on.
But is she?
Someone needs to defend her whether she's guilty or not. It's the American way, after all … the right to a fair, impartial trial. So Maryland senator Reverdy Johnson takes her case—much to the shock of his new adjunct, war hero Frederick Aiken.
"The military trial of civilians is an atrocity," huffs Johnson.
"No, what they did is an atrocity," Freddy says, speaking of the president's murder.
Imagine Freddy's surprise, then, when Johnson elects to hand the case off to him: He must defend a woman whom he believes—whom he needs to believe—is guilty.
But is she?
The question eats at Freddy's conscience. Johnson tells Freddy that if he can prove to himself that she's guilty, he'll let the war hero stand down and pass the defense to someone else. But there must be no doubt. And doubt, a reasonable doubt, proves to be a difficult thing for Freddy to squelch. As he talks with her and her daughter, as he watches the underhanded mechanisms of the court chip away at the woman's case, Freddy becomes an impassioned protector—risking his own social and professional standing to defend a woman most consider a traitor.
James MacAvoy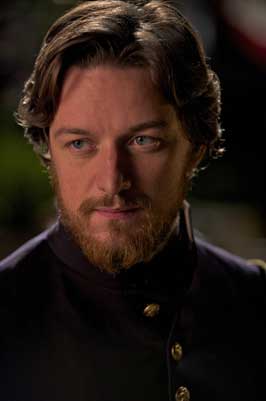 as Freddy/Frederick Aiken
I really liked him in this movie. He was honest and true. He was a good guy. I really liked him.
as Sarah Weston
I was disappointed in her. At first I was like, oh she sweet and a good girl. But then she just kinda leaves
Frederick, because of what was happening. She was disappointing. :D
Robin Wright
as Mary Surratt.
she played her part very well. It's hard to say what I think of her, so we will leave it at that. :D
Evan Rachel Wood
as Anna Surratt.
I kinda liked her. But it's also hard to say what I think about her too.
There are many more Characters, but it would take a long time to do all of them :D .
I think that Mary Surratt, maybe did not help, but she did know that something was going to happen. I don't think she should've been hung , but she should have had jail time.
I really liked this movie. I would strongly suggest watching it.
Have you seen this movie? If you have what did you think?
In Christ,
Katie